June is Peace with Justice Month
What Is PEACE WITH JUSTICE Month?
Our Social Principles call us to love our enemies, seek justice, and serve as reconcilers of conflict. Our first moral duty for all nations is to work together to resolve by peaceful means every dispute that arises between or among them. We recognize our call for social transformation, for
the quest to open the doors of opportunity for all, to distribute resources more equitably, and to provide better care for persons in need.
Donations for this special Sunday support programs and ministries to educate, equip and mobilize actions in support of identified Economic, Health, and Gender Justice Priorities. Fifty percent of the offering remains in our annual conference to support this ministry.
Please consider giving generously. Envelopes with be available at church or you can give at www.umcgiving.org/givepwjs
Church Picnic
Come to the church service on June 12th and stay after to share in some fellowship while enjoying some food, a bouncy house and family fun.
And don't forget to stop and share your favorite memories with Pastor Joe Tiedeman as we bid him goodbye!
Graduation
We will be recognizing the young people of our church for their graduation and "moving up" accomplishments on Sunday June 26th. Please make sure you come to the 10:00 service to show your support.
And a little about our new Staff Members…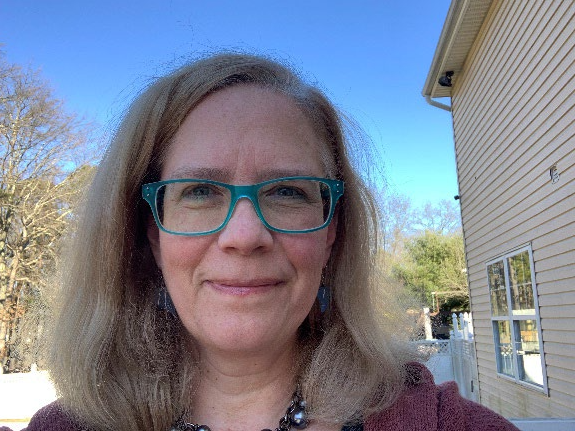 Rev. Denise Tiedemann
It is our joy to welcome Rev. Denise Tiedemann as the new pastor of our congregation.
Rev. Tiedemann will begin her new responsibilities on July 1st of this year.
Rev. Denise Tiedemann has been serving United Methodist Church for over 20 years. Most recently she has served as the lead pastor at DeBows UMC, Pleasant Grove UMC in Jackson and FUMC in Farmingdale. Prior to this appointment to she was the lead pastor at Centenary UMC in Lambertville and Linvale UMC in Ringoes. Denise, along with her husband Joe, created Jackson Arts Ministry which serves the Jackson area. This ministry offers excellent, low-cost performing arts and enrichment classes to children of all ages, while building self-esteem and pointing all we do to Jesus Christ. Denise was instrumental as part of a church plant and a church revitalization effort.

Denise loves working with children and has served as the Annual Conference's Childcare Coordinator. She and her husband Joe have four wonderful children, and she loves being a wife and mom most of all. Her background prior to being a pastor was in theater and music, and she loves giving her best to God and the wonderful churches she's had the privilege to serve. Her heart for mission has led her to serve with A Future with Hope and the Skainos Project in Belfast. Denise is energized remembering that all of us are created in God's image and looks to share the life-giving hope of Jesus Christ to as many people as possible.
Samantha Marley
Thank you, Jackson Church and Sunbeam families, for such a warm welcome. I am the new director of Sunbeam Christian Preschool and
co-director of Anchors Away Summer Camp. I am married and the mother of a 10-year-old daughter, Amelia. I was a member of the Switlik PTN for 6 years and I have served as the president for 4 years. Before joining Sunbeam Christian Preschool as the director, I was able to meet the staff and students as a substitute assistant teacher for the past year. I am looking forward to an exciting summer at Anchors Away Camp and another great year with the students and staff at Sunbeam!
ANCHORS AWAY SUMMER CAMP
Please join in the fun this summer at Anchors Away Summer Camp! Camp is open from 9:00a. until 2:00p – July 5th until July 29th (M-F). Now enrolling campers from Pre-K to 6th grade at https://anchorsaway.camp. Each week is a different theme (we will have cooking, slime, drama to name a few) and each day a new adventure for the children to enjoy.
Vacation Bible School – Adventure Island
August 1 – 5, 5:00p – 8:15p
Children preschool to 6th grade ages are invited to join us for a week this summer to learn about God and put faith in action through skits, activities, projects, and fun! We kick off with dinner at 5p then move into our high energy opening group session. Then we split into age groups and rotate between different stations (art, missions, craft, recreation, science and music) before closing with another group session. If you would like to help out at VBS or donate an item, please contact the office at 732-833-8808. We are always in need of donations for dinner, crafts, and snacks. For registration information go to http://Jackson.church.
ENROLL NOW FOR SUNBEAM CHRISTIAN PRESCHOOL 2022-23 SCHOOL YEAR
Call for a tour at 732-833-8808 x.2
Sunbeam Christian Preschool is accepting applications for its preschool and pre-k programs. Located in the center of Jackson, N.J. the school offers a unique combination of Creative and religious curriculums, uses progressive teaching methods and features a warm and engaging environment where children can learn and grow.
BIBLE STUDIES
Tuesday nights from 6:30p-8p
BIBLE STUDY – (On Zoom only)
Bible Champion – We are studying Gospel of John. We will continue to incorporate Bible Jeopardy and The Bible Project short videos into our discussions. Email [email protected] for login information.
Wednesday nights
READ THE BIBLE IN A YEAR
Commit with me and other friends and family to read through the entire bible. We will be reading and discussing the reading (online and in person) on Wednesday nights at 7:00p. Sign-up here.
Wednesday nights
BIBLICAL OVERVIEW – We are looking at the Historical Section Writings of the Old Testament (Joshua- Ester) on Wednesday nights from 6:30p – 7:30p. (Online and in person.) Email [email protected] for online login information.
ONGOING EVENTS, PROGRAMS, AND CLASSES
CFF – Christian Friends Forever (Special Needs Ministry)
1st and 2nd Mondays of each month.
SUNDAY SCHOOL
Every Sunday from 10a-11a for Nursery – 8th grade.
Volunteer to help with Sunday School
Make a difference in the life of a child! God might be calling you to be a teach or assistant, we are always looking for a volunteer. The curriculum is easy to teach and provided. Commit to pray for the children and teachers at Sunday School.
MEN'S FELLOWSHIP BREAKFAST
Every Wednesday morning at 8a at the Mug Rack.
WOMEN'S PRAYER AND BOOK STUDY
Wednesday morning at 9:30a on Zoom only. Call the church office for more details. 732-833-8808
WORSHIP TEAM REHEARSALS
Sundays following worship at 11:00a
If you like to play an instrument, sing, or want to learn come out and check us out and speak to the leader, Eric Drew.
MISSIONS, VOLUNTEERING, AND SERVICE OPPORTUNITIES
CLOTHING DONATIONS
We are partnering with AMVETS to collect clothing and raise funds. The bin is located in the back of our parking lot. Acceptable items include: all types of clothing, adult or children's, bedding, draperies, curtains, linens, and books. All donations are to be placed in the bin, please do not leave anything outside the bin.
EMERGENCY FOOD PANTRY
Families in need have increased in the last few months. We are currently in need of the following items: Spaghetti sauce, Spaghetti, Crushed tomatoes, tomato sauce, beef gravy, peanut butter, jelly, tuna, mashed potatoes, pancake mix, crackers, mustard, mayonnaise, ketchup and cake frosting. As always gift cards in $20 denominations will be much appreciated.
VOLUNTEER
Do you want to serve in an area that makes a lasting difference on someone's life and the life of our community? We are looking for people with a heart for service to help with our Sunday School and on Sunday mornings during worship. Also, we are looking for caring people to help with our Grief Share Program, as well as, checking in on some of our members who are not able to get out to church. Email Pastor Denise at [email protected] if you are interested.
DeBows Food Pantry
By appointment only — call 732-928-4475 in advance

Jackson Church Full Events Calendar