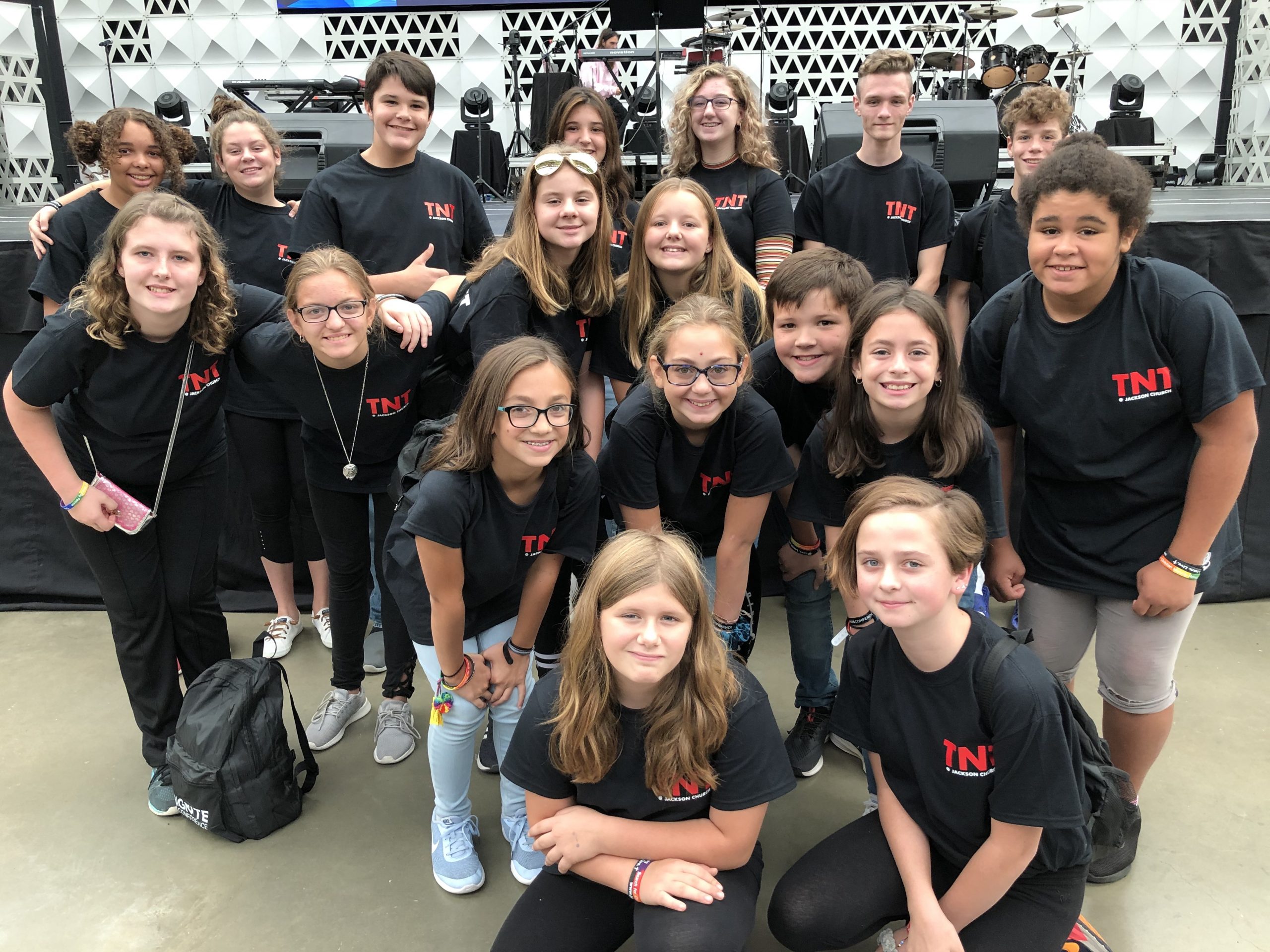 TNT Youth Group
Strong…together!
You are strong!
God gives you the power to change the world together in the name of Jesus Christ!
TNT Youth is our group of middle and high school students who meet weekly during the school year.
Be strong in the Lord
and in his mighty power.

Ephesians 6:10
Questions? Do you have questions about your faith or don't really know what faith is all about? You're not alone. Everyone is welcome to join us to know and grow for fun, faith, and friendship.
IGNITE 2022
September 30 – October 2
Each year, the TNT Youth Group travels to the IGNITE Conference in Wildwood, NJ. It is a weekend filled with exciting activities; bands, inspirational speakers, small groups, workshops, fun and food.
We are collecting names for kids who are interested in participating in the IGNITE gathering Wildwood as well as Youth Group this coming year and adults who may be willing to volunteer or chaperone. Please fill out the form below to let us know you are interested in getting more information (not a firm commitment):
https://forms.gle/LmRdzazmtB9RPDmcA
Please let us know by August 28th!
IGNITE trip information:
Cost and fundraising:
$50.00 per child is appreciated, however not required. Please contact Susan Moore for questions and/or payments. There are scholarships available, please contact Pastor Denise Tiedemann The deadline is August 28, 2022
We are having a bake sale at church September 11, 2022 to raise funds for IGNITE. Please let us know what you can donate. We ask that the kids that are attending IGNITE be there to help with the fundraiser.
Pre-trip:
Youth Group and Parent Meeting – September 25, 2022. Please sign up for the TNT Remind simply text @TNTYouth to 81010 (We will communicate our ETA & send pictures via this app)
What you need to bring:
Spending money to buy merchandise & Sunday's McDonalds Lunch
Personal Hygiene Products
Bring weather and church appropriate clothing
Departure and location:
We will be leaving from the Jackson Church 68 Bennetts Mills Rd, Jackson at 5:30 p.m. sharp!! Please ensure that the children have eaten dinner on Friday before arriving at the church, as we will not arrive back to the hotel room until around 10 PM.
We will be staying at the Shalimar Resort – 6405 Atlantic City Avenue #4197 Wildwood, NJ 08260. The Convention will take place at the Wildwood Convention Center – 4501 Boardwalk, Wildwood, NJ
Returning to Jackson:
We will return to the Church between 2-4 pm on Sunday.
2022 Events and Dates
Sunday, September 25th: Youth group at church: Parent/child info meeting for Ignite
Saturday, October 29th: Corn Maze
Sunday, November 13th: Mission Project @ Church
Sunday, December 11th: Ice Skating
Sunday, December 18th: Caroling to shut-ins/nursing homes
Sunday, January 29th: Bowling