Easter at Jackson Church
He is Risen!
Easter Sunday – April 9
Join us as we sing hosanna for the Risen Lord! Our Easter worship services will be held in-person and online at both 9:30am and 11:00am. Our services include music from our worship team, scripture readings, prayer, and a message given by our pastor. All are invited, come as you are! To learn more about our worship services, please visit our worship page.
There will not be any Sunday School this weekend, children are always welcome in worship! The nursery will be available for families with babies.
We are located at 68 Bennetts Mills Rd, Jackson, NJ 08527.
---
Save the date!
Easter is much more than just a Sunday. The week leading up to Easter is known as "Holy Week", where Christians reflect on Jesus' sacrifice on the cross. We have events and services throughout the week, join us and bring your friends and family.
Palm Sunday
Sunday, April 2 – 10:30am
Join us for worship on Palm Sunday at 10:30am in-person and online! Everyone attending receives a palm branch, remembering when Jesus rode into town on a donkey and the people shouted "Hosanna in the highest!"
Easter Egg Hunt
Sunday, April 2 – 11:30am
Following the Palm Sunday service we will have an outdoor Easter egg hunt at 11:30am for children 10 and under.
Holy/Maundy Thursday
Thursday, April 6 – 7:00pm
Everyone is invited to join us for our Maundy Thursday service. Maundy (or Holy) Thursday remembers Jesus's last supper with his disciples.
Good Friday
Friday, April 7 – 6:00pm to 8:00pm
We will be hosting "Stations of the Cross" on Good Friday instead of a traditional service. This is a self guided journey through a path that reflects on the impact of Jesus Christ on your life. You can come at any time during the 2 hours.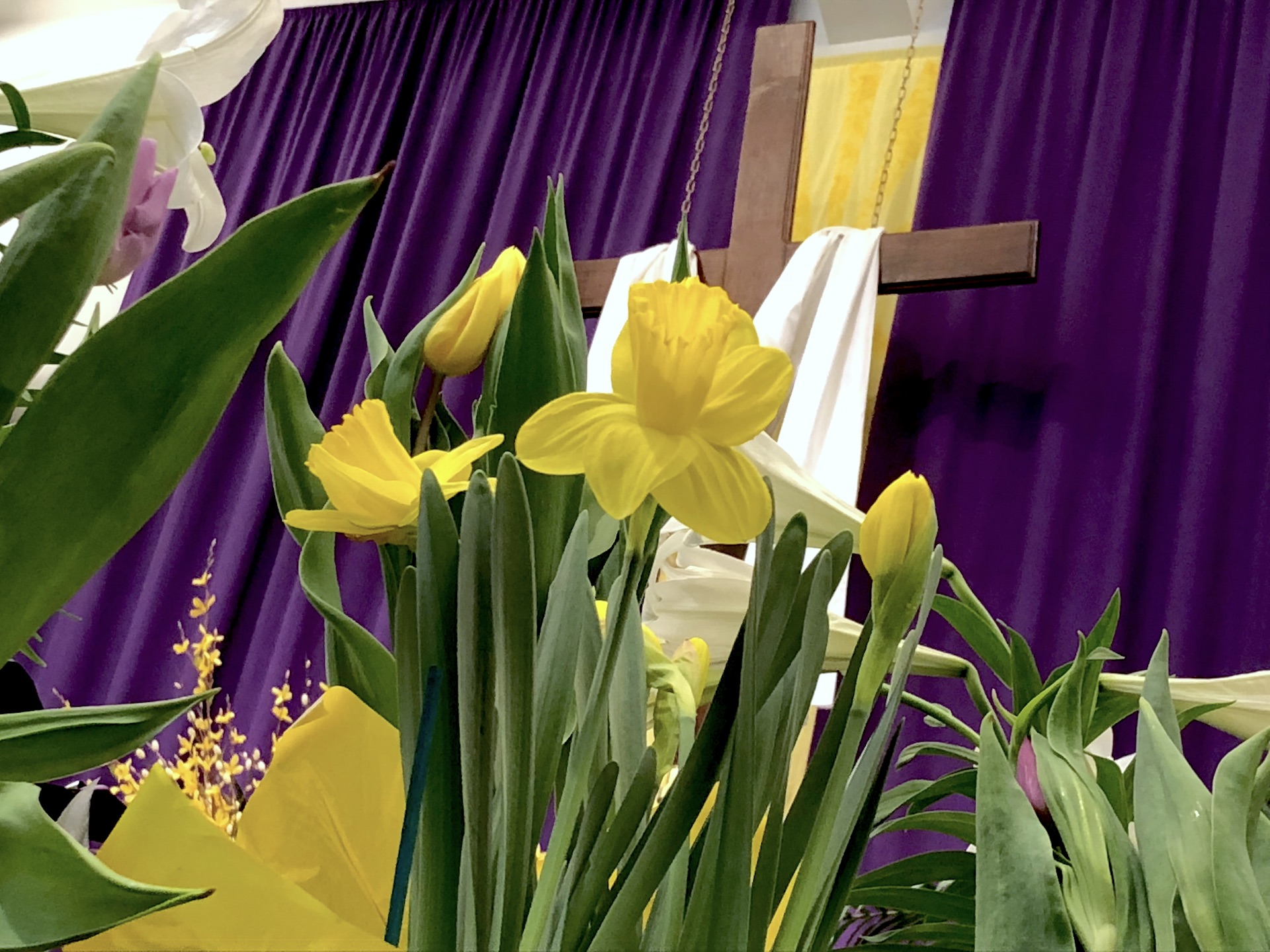 Easter Flower Orders
Dedicate flowers in memory to or in remembrance of a loved one.
Bring them home after Easter services.